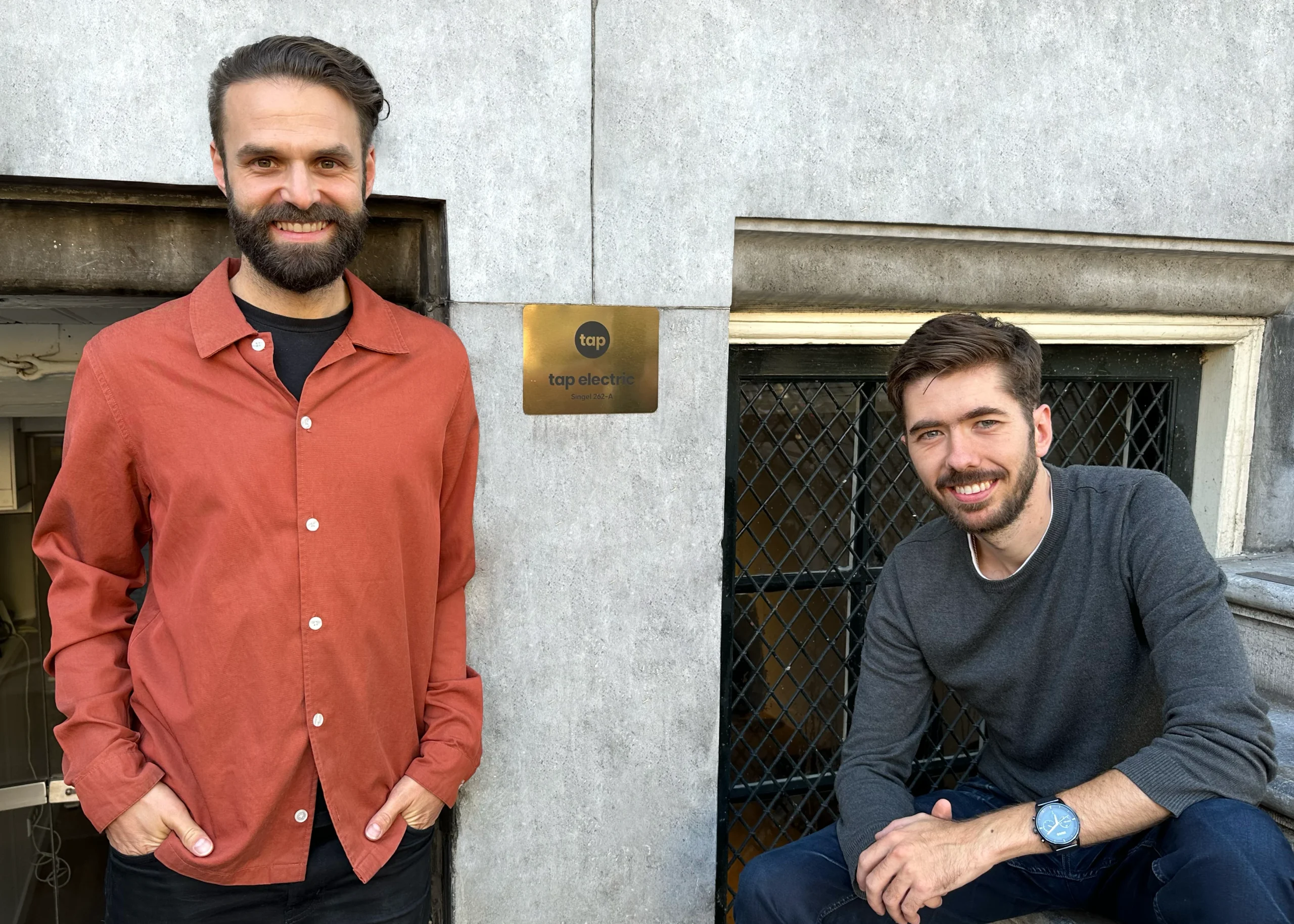 Picture: Tap Electric founders Dan Pezim and Nico Spoelstra (Left to Right)
AMSTERDAM, Netherlands – Tap Electric, a startup focused on improving driver experience with solutions for electric vehicle drivers and charger owners, announced today it has closed a EUR 1 million seed funding round led by LUMO Labs, Shamrock Ventures and Fair Capital Partners Impact Investing.
Tap Electric has two key products: a driver app, known for its industry-leading price transparency features and ease of use, and a platform for charger owners and installers to collect payments and manage their hardware. Notably, Tap Electric is the only platform in the market where charge owners and installers don't pay any fees, an important business model innovation enabled by a high degree of automation. 
The new funding will enable Tap Electric to expand its team to bring its products to market faster. The investment brings together three veterans from the pioneering first wave of the Dutch EV charging industry: Tap co-founders Nico Spoelstra and Dan Pezim, formerly of GreenFlux (acquired by DKV in 2021), and investor Alef Arendsen, Founding Partner at Shamrock Ventures and co-founder of NewMotion (acquired by Shell in 2017).
Accessible charging solutions are at the core of their business to make the transition to electric easier for drivers, while bringing together mobility with renewable power, directly impacting SDGs 7 (Affordable and Clean Energy) & 11 (Sustainable Cities and Communities).
"We're thrilled to have the support of such experienced investors who share our vision of delivering brilliant driver experience at the intersection of grid and mobility," said Nico Spoelstra, CEO and Co-Founder of Tap Electric. "This funding round gives us not only the capital required to execute our mission at pace, but also the strategic support we need to accelerate our impact."
"We are excited to invest in Tap Electric's cutting-edge technology and innovative approach to electric vehicle charging," said Sven Bakkes, Founding Partner at LUMO Labs. "We believe Tap Electric has the potential to revolutionize the EV charging market and significantly reduce the environmental impact of transportation."
"Shamrock Ventures is proud to support Tap Electric in its mission to provide sustainable and convenient EV charging solutions," said Alef Arendsen. "We are impressed by the team's passion and commitment to advancing the adoption of electric vehicles, and we look forward to seeing their impact on the market."
"We are excited to partner with Tap Electric to help bring their innovative and sustainable EV charging solutions to market," said Daan Laméris, Partner at Fair Capital Partners Impact Investing. "With our Fair Capital Impact Fund, we are committed to supporting companies that are driving positive change, and we believe that Tap Electric has the potential to make a significant impact in the transition towards a more sustainable future."
Tap Electric is an Amsterdam-based startup with the vision to deliver a brilliant driver experience at the intersection of grid and mobility.
Tap Electric media contact
LUMO Labs creates opportunities for impact-driven software and smart hardware startups. The current LUMO Fund II is an impact-driven multi-stage capital fund (pre-seed up to and including series A). It includes a two-year venture builder program to support its portfolio companies in gaining financial success as well as social traction and impact.
LUMO Labs funds startups that align with at least one of the three United Nations Sustainable Development Goals: Sustainable Cities & Communities, Good Health & Well-Being and Quality Education. Its investment focus includes Artificial Intelligence/Data, Blockchain, Internet of Things, Robotics and Drones and Virtual Reality/Augmented Reality.
LUMO Labs advocates self-determination and traceable ownership of data and transparency and traceability of technologies. 
Shamrock Ventures is a pre-seed and seed impact fund that invests in tech companies that create social and environmental impact. Areas of focus include circular economy, cleantech, sustainable mobility and food & agritech. Shamrock Ventures provides ambitious founders with their first professional capital combined with operational and technical expertise.
Shamrock Ventures media contact
About Fair Capital Partners Impact Investing
Fair Capital Partners Impact Investing is working on a society in which the earth is not depleted but restored. With the Fair Capital Impact Fund, investors make their assets work for impact with investments in young, promising companies that positively contribute to society. These companies help in combating climate change, by focusing on renewable energy, fair and sustainable food and a circular economy.
Fair Capital Partners Impact Investing media contact